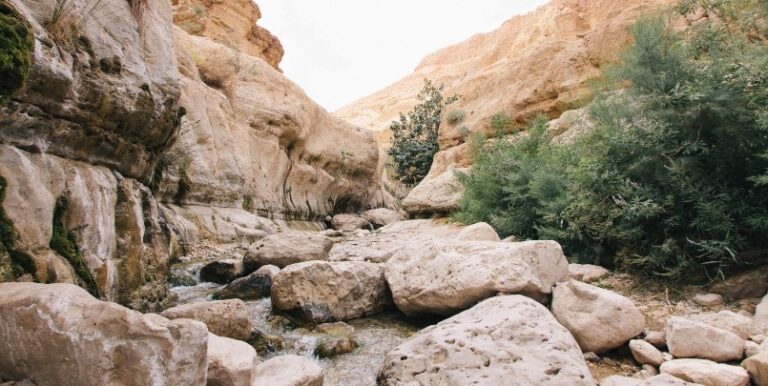 Ein Gedi and the Judean Desert
Getting the true meaning of "Living Water" from the waterfall at Ein Gedi and the Judean Desert
Nestled in the heart of Israel's Judean Desert is the spring water oasis of Ein Gedi.  It is her that one often receives the true meaning of "living water".  
In the extreme climate of Israel's desert where temperatures can exceed 110 degrees there are very few sources of drinking water. 
The Dead Sea might serve a momentary comfort however you must not be fooled, those waters are 33% salt and have no living thing living inside of them (hence the name).
Animals like the famous Nubian Ibex (or mountain goat) can often be seen crowding around one stream called locally "David's stream".  Yes, named after the same King David who his from  the armies of Saul in the "Spring of the young goat" (1 Samuel 23 and 24). 
As a result of that event, for centuries people would come to this fresh water oasis at Ein Gedi to drink, bathe, and cool off from its fresh waters. 
It is no wonder why Jesus' early followers so easily related to his words in John 7 " If anyone is thirsty let him come to me and drink"  For his early followers where a shepherd people. 
They knew what it was like to wander with their flock in extreme climates and terrain (as wandering through life often seems).  They felt in their bones and in their heart the amazing moment that was finding a place to rest, to drink, to receive "living water" water of life, water for the body and for the soul. 
Ein Gedi Quilt
It's this feeling that we give and receive in our guest room where the Ein Gedi Wall quilt is hung.  Our house guests get to sleep under the waterfall of Ein Gedi and drink from the holy spirit.  The next morning we all become engaged in conversation about Ein Gedi and the Judean Desert and the biblical text and its importance and meaning in our lives.  
We hope this home decor piece offers the same beauty and meaning to your house and your families and guests.  Promises of Glory aims to do exactly that through our catalog of handmade wall art.
Give beauty to your home, meaning and a voice to your walls.  Engaging all members and guest of your household to remembers God's promises to his people. 
His Promises of Glory.